Hello All,
  Juan here with a little New Year cheer for you.  We just had an incredible time at the Xtreme Winter conferences these last couple of days, and we even got to ring in the new year with the guys from Kutless and  Newsong.  I lovedoing these.  One, because of the energy.  Two, because of the students...you all ROCK. Three, because you get to see God do some great things through music and the speakers there.  
   We did spend a day in Branson, MO, so shout out to all you people that were there.  For everyone keeping up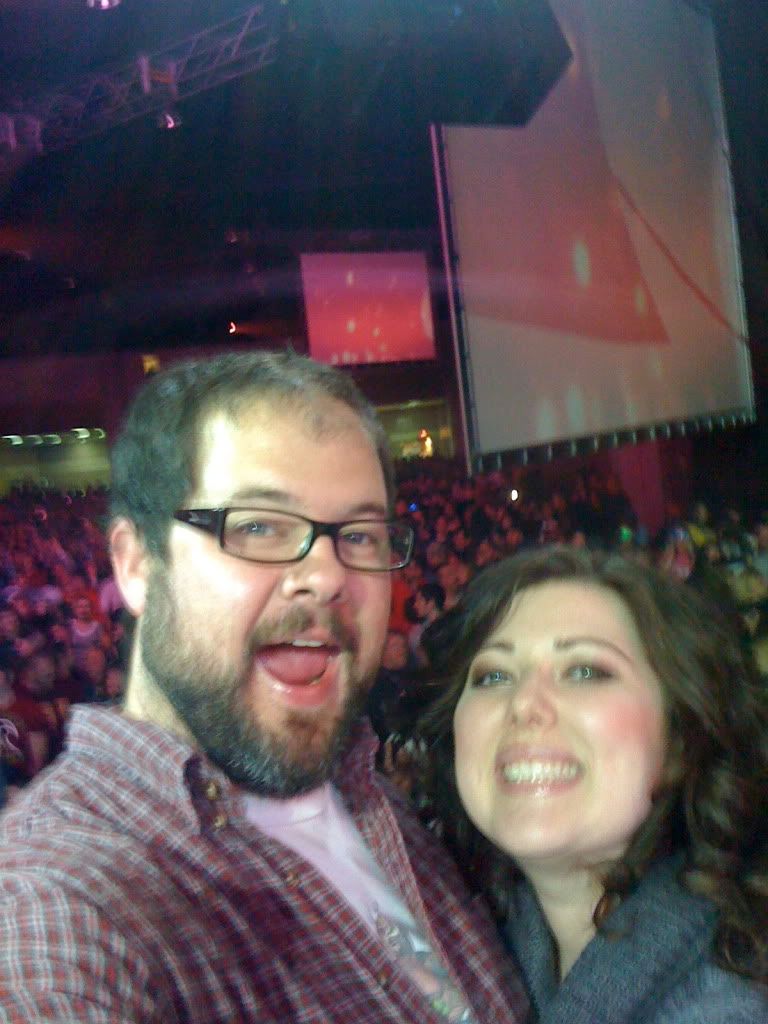 with us on Twitter, our trailer is fine now, for everyone who wasn't, our trailer
broke on the way back to G'burg, and we almost didn't make it to the next concert. We spent sometime in a small town in MO and marveled at how old Drew Carey is looking while we watched "The Price is Right" over our breakfast at the local diner.  but most of our time was in Gatlinburg, which is a great place to be...if you love sitting in your car for an hour to go two blocks.  So walking is the selected mode of transportation. It seemed that the flashing shade glasses were the light-up apparel of choice. Also, for some reason, if you are a ninja in search of getting stocked up on all your weaponry...you can do that too. 
    What I wanted to tell everyone who went to the conference was a few things I mused upon whilst playing for you guys on stage.  Its curious we do this event right at the new year.  The last few days of the year bring a little bit of nostalgia and reflection for me, like it does a lot of people.  I think about how my kids have grown, I remember high school and college and how fun they were.  I remember when Melodee and I started dating then and how fun that all was.  I also get slammed with how much I didn't do, and by that I don't mean keeping busy.  I mean missed opportunities and time with God that would have amounted to a great year for me spiritually.  And when the Word of God is spoken we all begin to reflect on the unholiness of our lives.  That's why this is curious.  While reflecting on our calendar year, we're also reflecting on our spiritual year.  The clarity God gives you in those moments is no mistake, neither is it an empty emotional experience.  Your feelings were involved, but God spoke to you. Make no mistake about that.  As time
goes on, and distance is put between you and that moment, the Enemy will try to tell you it was empty because you were swayed by the moment.  In fact, now that it is a couple of days after, you might be thinking that now.  So that is what I wanted to tell everyone at the conference (even if you were working security and had a thought that God put into your head.)  Whatever it was you decided, whatever you saw of yourself, of God, of your fellow man...it was truth. If you felt the tug of the Holy Spirit, then use that and look back on it in moments when you think it was nothing.  Most of all, don't give up.  Even if you fail, even months from now when you've checked out and numbed out, come back and come back quickly.  Tell it to God "I'm not going to give up".  That is our lifelong struggle, and if you quit struggling, then the lie has overtaken you.
   I want to encourage anyone with that.  I see sometimes we get disappointed with not living up to God's standard when all He asked of us is to trust Him, not to live.  Love you guys, and keep us up to date.
Peace
Juan